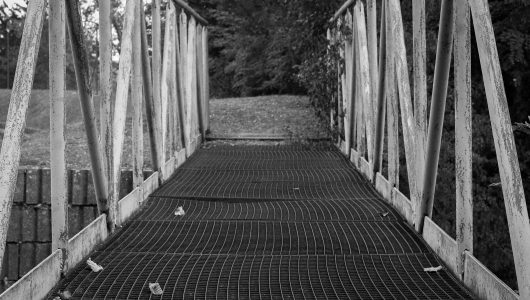 Defects in bridge structures are common and can pose a significant threat to life and property. It is estimated that nearly 10% of bridges in the United States are classified as structurally deficient. That is approximately 60,000 structures which means deficient bridges are a problem that affects a considerable number of towns, cities, and communities.
Common Bridge Defects
Concrete bridge structures are susceptible to corrosion, carbonation, creep, shrinkage, water penetration, and alkali-silica reactions. One of the most common causes of damage to steel-reinforced concrete bridges is rebar corrosion. As the rebar begins to rust, it expands which facilitates further and faster deterioration of the bridge deck.
Delamination is another common bridge defect. As the steel rebar within the bridge corrodes, it can cause horizontal deck delamination. In most cases, this does not become apparent until structural failure occurs. Over time, it is this type of damage that can highlight irreversible deterioration of the bridge deck and can result in sudden collapse.
Steel bridge structures are susceptible to similar types of damage, including corrosion and both low-cycle and high-cycle fatigue. Steel bridges may also develop cracks in elements and joints, as well as deficiencies within connections. They may also suffer permanent deformation such as buckling or bending when exposed to heavy loads or severe freeze/thaw cycles.
In addition to the bridge deck, the substructure can suffer significant damage to the foundation, abutment, piers, or retaining walls. Damage to these substructural elements can radiate throughout the structure and exacerbate damage to the deck. These types of damage can be caused by changing soil conditions, weather, and motor vehicle accidents.
Detection is Crucial
Prompt detection of bridge defects is crucial for preserving the structural integrity of the bridge deck and other structures. This includes routine visual inspections and monitoring of any potential deficiencies. However, current standards in the United States mean that most bridges are inspected only once every two years, and less than 12% are inspected annually.
Other types of inspection/testing include condition surveys. These mildly destructive tests involve testing core samples to identify potential problems. In lieu of this type of testing for construction defects, non-destructive testing may include the use of the ground-penetrating radar, ultrasonic surface waves, or chain drag/hammer sounding. These tests can be used to monitor the structural integrity of the bridge and to track potential issues as time progresses.